Extrusion
Whether you are operating cast or blown extrusion lines, we know there is a fundamental need to create perfect surface tension on the product so that downstream converting processes can run smoothly.
Adding a Vetaphone Corona treater to your extrusion line will allow you to supply your customers with a product that you know is 100% reliable. This is because our systems are designed and manufactured by people who understand the hard-working demands of a non-stop production environment, where there is a need for segmented set-up. By focussing on the challenges that your customers pose you, we can provide technology that is tailored to your specific requirements for smooth operation with no unplanned stops.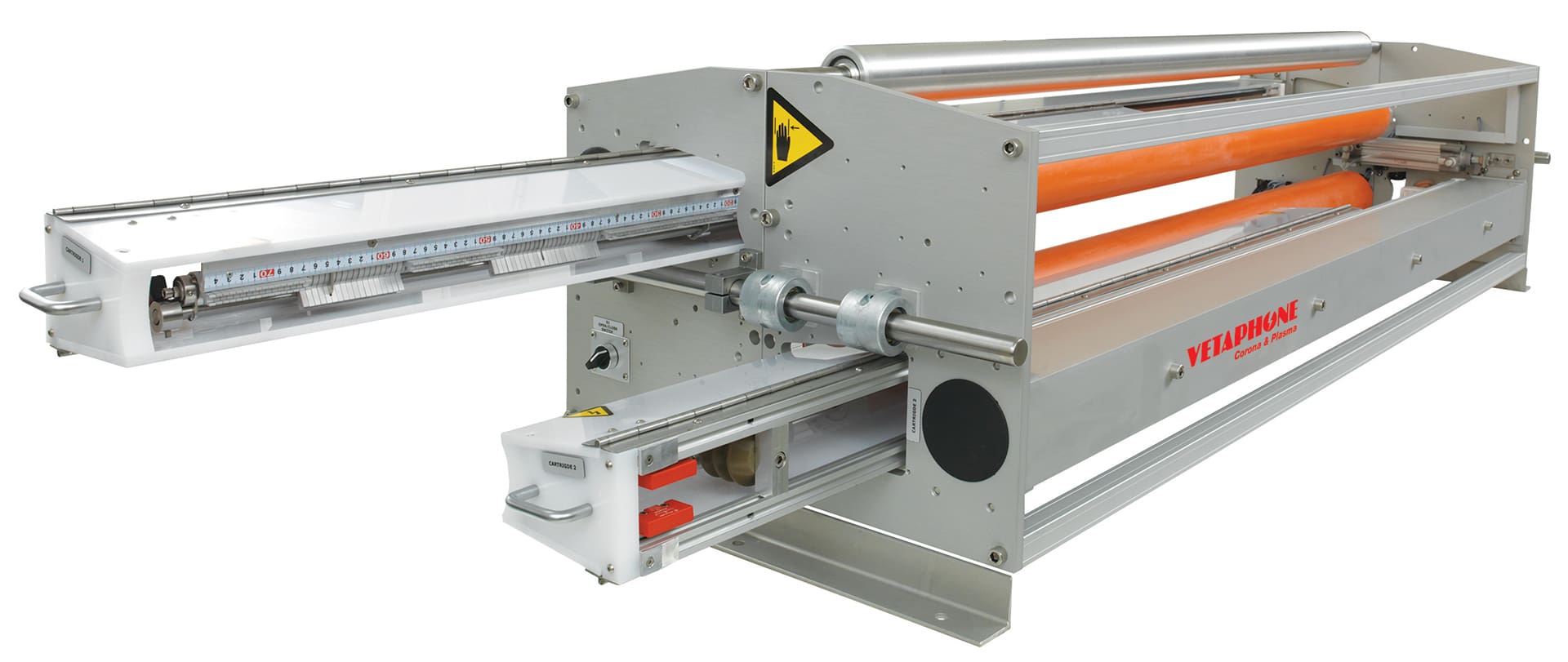 Download Datasheet
All Vetaphone Corona treaters provide a high dyne level on any extruded material because of their special design and use of ultra-efficient generators that deliver precise and consistent power requirements. The advanced electrode design eliminates fluctuations in dyne levels across the web width and guarantees no undesirable treatment to the reverse side.
To provide you with maximum up-time on your extrusion line, Vetaphone Corona treaters all feature a unique Quick-Change system that allows the operator to carry out segment set-up and maintenance in minutes.
Features
Easy maintenance
All our stations are designed for easy maintenance to enhance your productivity requirements
Flexibility
Upgradable performance and a wide range of options ensures the system fulfills your exact
UL Recognised Components
Equipped with UL recognised components
Intelligent Control
Our unique range of iCorona generators offer easy and intelligent control of the Corona process
Guaranteed Support
Whenever the need for support arises our qualified and experienced technicians are never far away from you
Watch our Corona treater for extrusion in action
We operate 78 lines here on a 24/7 basis, so reliable technology is essential. Our experience with Vetaphone equipment has been outstanding. It is easy to use, robust, and excellent value for money. It also takes away one of the production variables.

CEDO SP. Z O. O. / MR ANDRZEJ MAJEWSKI, SITE DIRECTOR

Many suppliers offer only standard products, but with Vetaphone we have been able to refine specification to suit our exact requirements. We also appreciate the after sales support and programme of continuous improvement from which we have benefitted over the years with various upgrades.

CEDO SP. Z O. O. / MARIUSZ RUCINSKI, PROJECT MANAGER